Demand for Bone ShibaSwap (BONE) is increasing daily as major exchanges begin to list BONE.
Google Trend data reveals that the demand for the governance token of the Shiba Inu Ecosystem, Bone ShibaSwap inflated so much that the keyword "How to Buy BONE Token" soared, hitting breakout levels.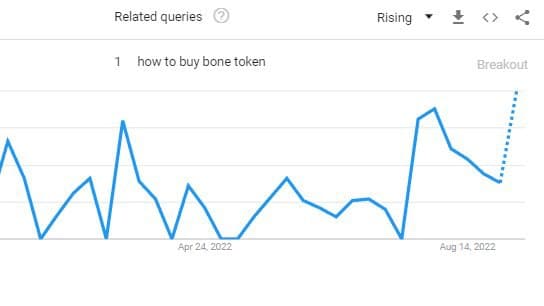 The primary reasons behind these increased searches are as follows:
Much-Awaited Shibarium Launch:
The first and foremost reason behind increasing BONE searches is the much-anticipated Shibarium Launch. As per the last update provided by Unification XFUND, a blockchain service provider involved in developing the Shibarium Layer-2 Solution, the Shibarium Public Beta Testnet may launch in Q3. As September is the last month of Q3, Shiba Inu Community can expect breaking news about the Shibarium launch anytime soon.
BONE has a significant utility case in Shibarium Layer-2 Network. It will act as a native "Gas Token" for Shibarium, meaning that every user on the Shibarium network would need a BONE to make any transaction. Considering the mentioned utility case of BONE in Shibarium, Shiba Inu Community expects that with the much-limited supply of 230 million BONE tokens compared to Shiba Inu, the BONE value could increase manifolds with the launch of the Shibarium network.
BONE Incredible Performance in the Past 14 Days:
Despite unfavorable market conditions, BONE posted an incredible performance in the past two weeks. The world's largest independent cryptocurrency data tracking website, CoinGecko, reports that the value of Bone ShibaSwap increased over 100% in the past 14 days.
On August 25th, the BONE price stood at $0.8360. Because of intense demand, the value of BONE increased almost three times in just five days. BONE hits a recent high of $2.38 on August 30th, 2022. Following this, the BONE experienced a slight pullback. At press time, BONE is trading sideways, currently sitting at $1.73, up 6% over the last day, with a 24-hour trading volume of $18,257,215 ($18.25M).
BONE Listing on Major Centralized Cryptocurrency Exchanges:
Major centralized cryptocurrency exchanges, including Hong Kong-based top exchange LBANK and Cayman Islands-based global crypto exchange Bitmart, added BONE support. One of the leading trading platforms, Crypto.com, also recently provided the Shiba Inu Community with a hint that they may list BONE.
– Advertisement –