By Kao Shih-ching / Staff reporter
The Financial Supervisory Commission (FSC) on Monday told lawmakers that it is considering requiring local cryptocurrency exchanges to keep their digital currency holdings separate from those owned and deposited by clients, as it seeks to regulate the business and protect investors in the wake of FTX's collapse.
Having filed for US bankruptcy court protection, foreign cryptocurrency exchange FTX said that it had recovered and secured US$740 million in crypto assets — a fraction of the potentially billions of US dollars likely missing from the company — with many FTX customers worried that they could never get their money back.
FSC Chairman Thomas Huang (黃天牧) told a meeting of the legislature's Finance Committee that the commission, which usually focuses on combating money laundering on cryptocurrency exchanges, would tighten regulations governing investor protection and asset separation.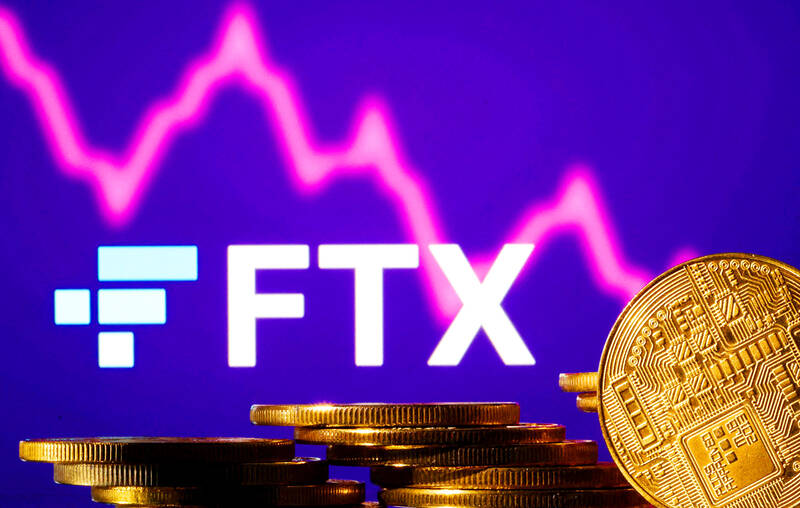 Photo: Reuters
Cryptocurrencies are not traditional financial products, and global financial regulators are still evaluating whether the virtual assets bear contagion risk, with the crisis in the cryptomarket spreading to conventional financial markets, Huang said.
The FSC is considering requiring local cryptocurrency exchanges to isolate their holdings from those owned and saved by their users, to avoid affecting their consumers should a cryptocurrency exchange go belly up, the commission said.
It has not decided whether it would establish a special act on the industry, Huang told lawmakers.
Wayne Huang (黃耀文), CEO of XREX Inc (鏈科), which provides blockchain cross-border payment solutions, said that he agreed with the commission.
Asset separation should be fundamental for any cryptocurrency exchange, he told the Taipei Times by telephone.
"Any cryptocurrency exchange that operates decently should have separated the coins and stuck to the principle of separation. An exchange that secretly uses its clients' cryptocurrencies to fund its own investments or activities is committing a crime," he said.
Failure to separate assets is one of the major causes of FTX's downfall, he said.
Cryptocurrency exchange MaiCoin Ltd (現代財富科技) CEO Alex Liu (劉世偉) urged the FSC to reach out and ask offshore cryptocurrency exchanges to comply with its regulations.
"Given that the amount of losses incurred by Taiwanese investors is estimated to run into hundreds of millions of US dollars, the time has come for Taiwanese regulators to present offshore platforms such as FTX and Binance a simple choice — comply with Taiwanese consumer protection and financial regulations, or stop serving Taiwanese," Liu told the Taipei Times by telephone.
This is the path that regulators in Singapore, the UK and the US follow, Liu added.
"FTX's downfall shows that doing nothing is no longer an option for the FSC, which has a responsibility to take care of local investors," Liu said.
"A poor internal labeling of bank-related accounts means that I was substantially off on my sense of users' margin. I thought it was lower," FTX founder and former CEO Sam Bankman-Fried wrote on Twitter.
In other words, Bankman-Fried implicitly admitted that FTX used its clients' funds, but he claimed that it was just a result of accounting errors, Wayne Huang said.
"It seems that the exchange had no internal audit or controls, or any external audits that could have helped it prevent mistakes," and Bankman-Fried's claim would be scrutinized by the legal system, he said.
Local cryptocurrency exchanges operating as a centralized system should be regulated by the government so that investors can be protected and the government can also be exchanges' lender of last resort, he said.
However, Taiwanese accounting firms have reservations about auditing cryptocurrency exchanges, as they lack the talent or expertise in dealing with the blockchain or crypto, he said.
As such, the government should make a solid and comprehensive plan to boost governance, he added.
Comments will be moderated. Keep comments relevant to the article. Remarks containing abusive and obscene language, personal attacks of any kind or promotion will be removed and the user banned. Final decision will be at the discretion of the Taipei Times.