Dogecoin (DOGE) holders are now sitting on 16% losses compared to the $0.096 local peak recorded on April 4. Despite the recent uptrend in the altcoin market, Dogecoin miners and institutional investors remain unconvinced of an imminent bullish breakout. How could this impact DOGE price in the coming days? 
Dogecoin (DOGE) is a decentralized blockchain network that deploys the proof of work consensus system to validate transactions. Since Apr. 18, the meme coin has been in a steep downtrend. Remarkably, on-chain data indicates that whale investors and Dogecoin miners are selling. How long will the bears remain in firm control?  
Dogecoin Miners Are Selling
Miners on the Dogecoin network appear to be selling their block rewards, indicating their bearish sentiments. Miner Reserves data monitors the amount of a particular cryptocurrency held in the wallet addresses of the top miners. 
The chart below shows how the miners sold 210 million DOGE between Apr. 1 and 25. At the current market value of $0.08, the coins sold off in April are worth nearly $16.8 million.

A reduction in miners' reserves can be seen as a bearish signal for a few reasons. First, it may indicate that miners are less confident in the price prospects of the cryptocurrency. Hence they are choosing to sell their DOGE memecoins rather than HODL. 
This selling pressure will likely contribute to a further decline in the DOGE price of the cryptocurrency.
Whales Are Piling on Sell Pressure Too
Similarly, on-chain data reveals that whale investors in the Dogecoin ecosystem recently have started depleting their wallet balances. The Santiment Chart below shows that a cohort of DOGE whales holding 100 million coins and above have strategically offloaded 440 million coins worth approximately $35.2 million, over the last twenty days.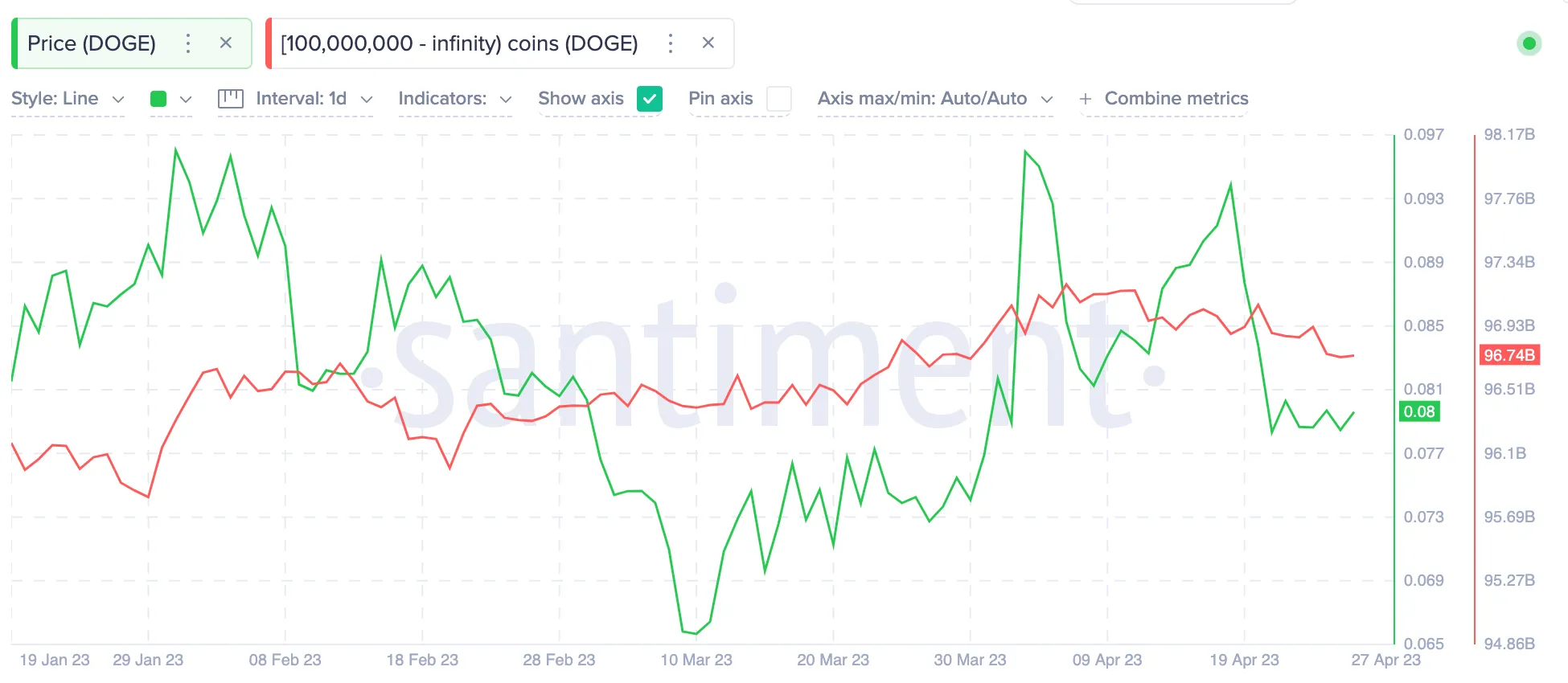 Such a considerable reduction in miners' reserves can be seen as a bearish signal for a few reasons. First, it may indicate that miners are less confident in the long-term prospects of the cryptocurrency market and are choosing to sell their coins rather than hold onto them.
This selling pressure can contribute to a decline in the price of the crypto.
Additionally, a reduction in miners' reserves may reflect a decrease in mining activity, which can be a sign of reduced network security and decreased confidence in the crypto.
If fewer miners are actively participating in the network, it may be easier for bad actors to carry out attacks such as a 51% attack, which could further undermine confidence in the cryptocurrency and contribute to a price decline.
DOGE Price Prediction: The $0.07 Support Level is Critical
According to IntoTheBlock's Break-Even Price distribution data, Dogecoin bears will likely force a DOGE price downsizing to $0.076. Which remains the last major support before further downside can continue.
But currently, the 164,000 addresses that bought 13 billion DOGE tokens are expected to offer considerable support around the $0.076 mark.
But if that support caves as expected, then the DOGE price will likely drop further toward its next resistance zone at $0.069. However, bullish pressure from another 415,000 addresses holding 48 billion coins could stop the slump at this support level. 

Still, the bulls can negate this pessimistic narrative if the DOGE price can rise beyond $0.082. But as seen above, the 175,000 addresses holding 2.2 billion tokens at that price range could pose little resistance before a larger cluster of sellers is triggered.  
The next resistance level will need to overcome a mammoth 734,000 addresses that hold 19.20 billion DOGE at an average buy price of $0.11. Flipping resistance here could see DOGE eventually move toward the $0.15 Resistance mark.
Disclaimer
In line with the Trust Project guidelines, this price analysis article is for informational purposes only and should not be considered financial or investment advice. BeInCrypto is committed to accurate, unbiased reporting, but market conditions are subject to change without notice. Always conduct your own research and consult with a professional before making any financial decisions.